Thermochromic materials: pigments, inks, paints
Materials that change color with temperature
Everyday, we design and produce thermochromic pigments, dyes, inks, paints... we offer a wide variety of heat activated coatings from one color to a transparent color, such as black, blue, green, yellow, red... If necessary, our teams will find and/or develop the best solution for you.
We work in all industrial sectors: aeronautics, food, automotive, construction, cosmetics, defense, energy, luxury, medical, transportation...
15 years of expertise in color intelligence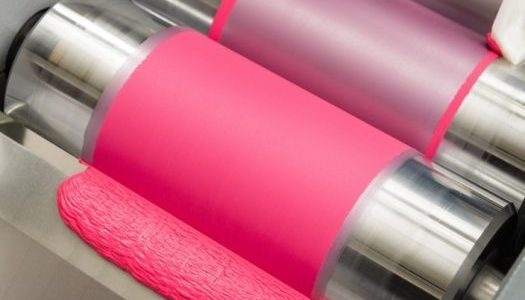 Nature: solvent-based or UV photocurable ink
Support: to be defined according to the project
Application: Screen printing - Flexography - Pad printing - Offset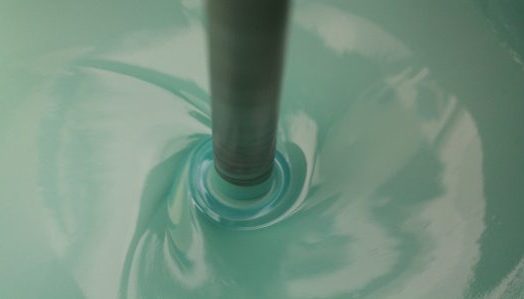 Nature: solvent or aqueous phase
Support: to be defined according to the project
Application: Spray - Brush - Roller - Aerosol can
Features
Wide range of activated temperatures:
0°C, 5°C, 10°C, 15°C, 25°C, 32°C, 45°C, 50°C, 60°C
Wide range of colors:
Black, Blue, Red, Green, Violet, Orange, Yellow
All our high performance heat sensitive products are produced in our ISO 9001 certified industrial site in Pessac, France, according to rigorous manufacturing processes and under the continuous supervision of our quality manager.
We create our own pigments and dyes and we adjust the colors change. However, we only deliver our products in the form of ink and paint to guarantee the thermochromic performance (colors, transition,...) of the final coating.
Are you looking for a specific thermochromic material adapted to your specifications?
According to your request, we select for you the best generation of thermochromic compounds. We modulate the proportion of organic entities (such as "liquid crystals", "leuco dyes", micro-capsules) or inorganic pigments to obtain the best compromise in terms of thermo-sensitive paints and inks in relation to your technical, economic and regulatory specifications.
The organic material brings the degree of flexibility essential to ensure the speed of the thermal phenomenon (colors change) and the absence of fatigue. The inorganic component ensures "light fastness". It is a subtle balance to create to control and adapt the thermochromic property (pigment, dye, ink or paint) according to your needs.
We distinguish three main classes of thermochromic derivatives, depending on whether the property is reversible, with memory effect, or irreversible.
Thermochromism
reversible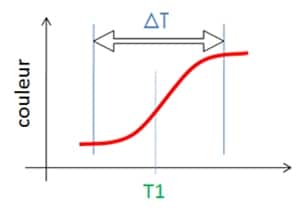 The thermochromic property is reversible and progressive, centered around the T1 value. The transition T1 can be adjusted from -100°C to +1000°C.
Thermochromism with
memory effect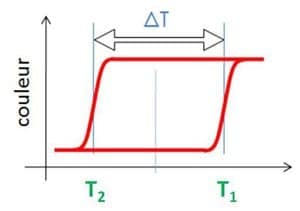 The transition occurs at T1 and returns to its original color when the temperature drops to T2. The difference between T1 and T2 defines the memory effect of the thermochromic property.
Thermochromism
irreversible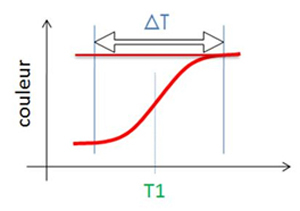 The irreversible transition is definitive as soon as the temperature rises above a defined level T1. The irreversible threshold value T1 can be adjusted from +60°C to +900°C.
We have a team of doctors, engineers and technicians who are experts in thermochromic chemistry. We create new thermochromic pigments and dyes on demand every day. Depending on the demand, we adjust the transition temperatures. Some requests concern temperatures of 0-100°C, others lead us to elaborate coatings for very high temperatures of 300-1000°C, or on the contrary dyes close to nitrogen or even helium.
By experience, we know the main pitfalls encountered with thermochromism (from pigment/dye to ink/paint): the choice of the transition, the loss of colors properties during the formulation and/or the industrial process, the sensitivity to ultraviolet rays, the low coloring power, the fatigability of the process during thermal cycles, the limited thermal resistance of organic thermochromic pigment / dye (200-240°C), the toxicity of certain constituent elements, etc.
This is why we have chosen to be with you from start to finish, from the idea to the final product (ink, paint...), in contact with your teams, in order to intervene efficiently at each stage of your project: in order to intervene efficiently at each stage of your project: research and development, pre-industrialization and industrialization.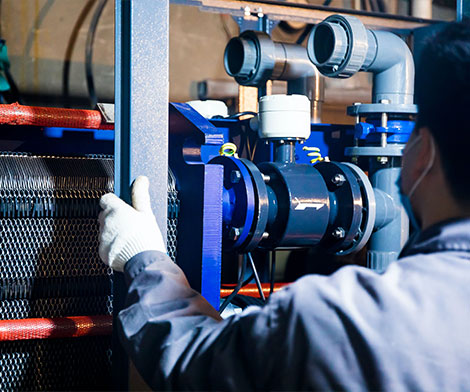 Industrial safety and predictive maintenance
In the industrial safety and predictive maintenance (energy, petrochemical, nuclear...), the use of a thermochromic product offers multiple possibilities of application. The modification of the color of an ink and/or paint allows dynamic temperature control without any wiring or electricity supply as opposed to a thermocouple whose fragility is prohibitive for certain uses.
For example, a heat reactive indicator/coating (changing in blue or from black to red...) can be used to monitor the surface of a motor to warn of an overheating condition, an electrical element to detect a short circuit, a tank to visualize its filling level, an industrial pipe, valves, ovens, etc. to control the occurrence of an anomaly.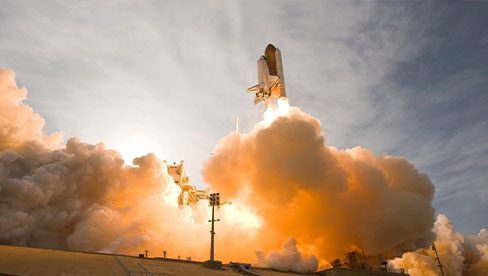 Aeronautics, space & defense
The use of thermochromic coatings allows, for example, to detect an anomaly, to control the health of composite structures and the risk of delamination inherent to an abnormal rise in temperature.
In the Defense, the issue can be the camouflage of a structure, capable of adapting to its environment, like a chameleon.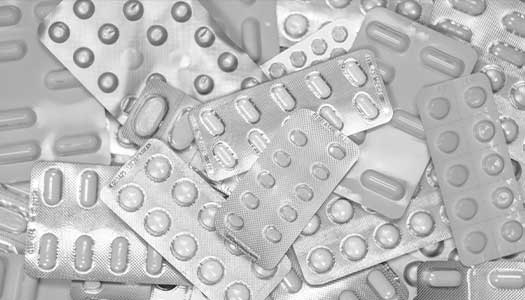 Medical and food field
The use of thermochromic technology makes it possible to control the thermal evolution of an element, to reinforce the traceability as to detect a rupture of the food cold chain, to attest the conformity of storage of a drug, a vaccine...
The presence of an indicator capable of colourchanging (i.e. in red, blue, orange, violet, green,...) is understandable by all. It is a simple way to track down an anomaly easily.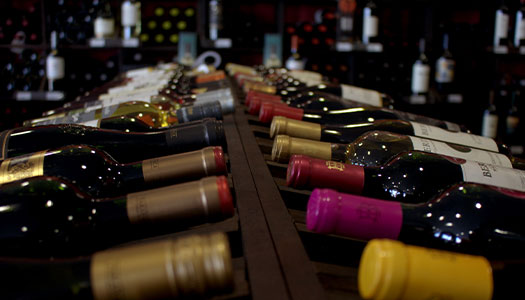 Smart packagings and authentification
Is your bottle of wine at the good temperature for tasting? The label in contact with the bottle will tell you, by a change of color (thermochromic ink, paint). Other indicators of well-being, of good use, exist on beer bottles, take-away containers, cups... Thermochromic pigments and dyes open up a new Eldorado for the creation of intelligent packaging. This allows to create an interaction with the consumer, to boost the image of a brand...
The use of thermosensitive coatings and more generally intelligent materials offers the possibility to increase the complexity of the packaging and to create a wide range of security keys of different levels depending on the desired protection, to reveal a counterfeit, to authenticate a product...
What is a thermochromic material? A thermochromic coating (from the Greek thermos for temperature and chromos for color) is, by definition, made of a pigment/dye whose optical properties change […]
Sensitive, reactive, these so-called smart materials transform and change color under the influence of heat, light or mechanical stimulation (stretching, impact). With the birth of SmartKrom® color change […]

CONTACT US
You have a question, a project?
We will get back to you as soon as possible..
"*" indicates required fields