An approved and proven methodology
More than 70 industrialists from all sectors, nationally and internationally, trust us every year.
This industrial reputation, built over the years, is based on scientific expertise and a unique rigorous methodology.
Our confidence indicator
on a scale of 10
For each request, we provide our partner with a confidence indicator. The majority of the initiated projects have indicators higher than 8.
However, some programs are deployed with a lower confidence level. These are usually disruptive technologies with very high innovation potential, on subjects that have not been investigated very much. If this is the case, our industrial partner is fully aware of the technological risk, and our teams take up the challenge.
9 out of 10 requests
are declined
Without any judgment and in total transparency, our technical team analyzes and evaluates the feasibility of each request with regard to the current maturity of intelligent materials, the time-to-market and the potential value created.
This leads us to decline many requests.
One interlocutor until
the industrialized product
The specifications for your project are drawn up jointly with one of our experts, who will remain your interlocutor until the final solution is delivered.
He will manage the project and organize all the feasibility and validation stages. He will act as a link between your departments and our technical teams
The stages of your project
Progression is by phase, with Go/No Go milestones at each stage:
State of the art analysis: evaluation based on a bibliographic search (patent databases, analysis, scientific and commercial publications);
Co-construction of specifications: desired effect, color change threshold, targeted matrix, shaping during the industrial process, durability, regulatory aspects, economic dimension, marketing and/or customer requirements, risk, deadlines, quantities, etc;
Proof of Concept (POC): demonstration of feasibility, development of a prototype and/or a solution to demonstrate the desired effect. It is a concrete and preliminary experimental realization, still incomplete, illustrating a certain method or idea;
Pre-industrialization: we test, demonstrate and validate the operability on industrial site with all the optimizations made;
Industrial validation: implementation of the ramp-up, securing the supply of raw materials, implementation of the quality approach, certification, audit, exchanges with the purchasing department and contractualization;
Industrial production made in France (Pessac - 33): manufacturing from kilo to ton/day and technical assistance for your various services.
Throughout this process, our team of scientific experts is at your side to ensure technical assistance and optimal implementation.
At the end of all our projects, our solutions are delivered with a certificate of conformity. An essential quality requirement in the world of intelligent materials.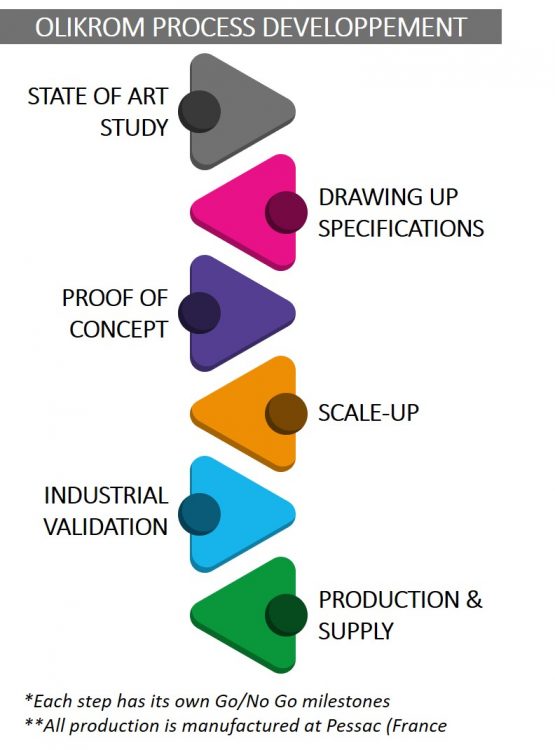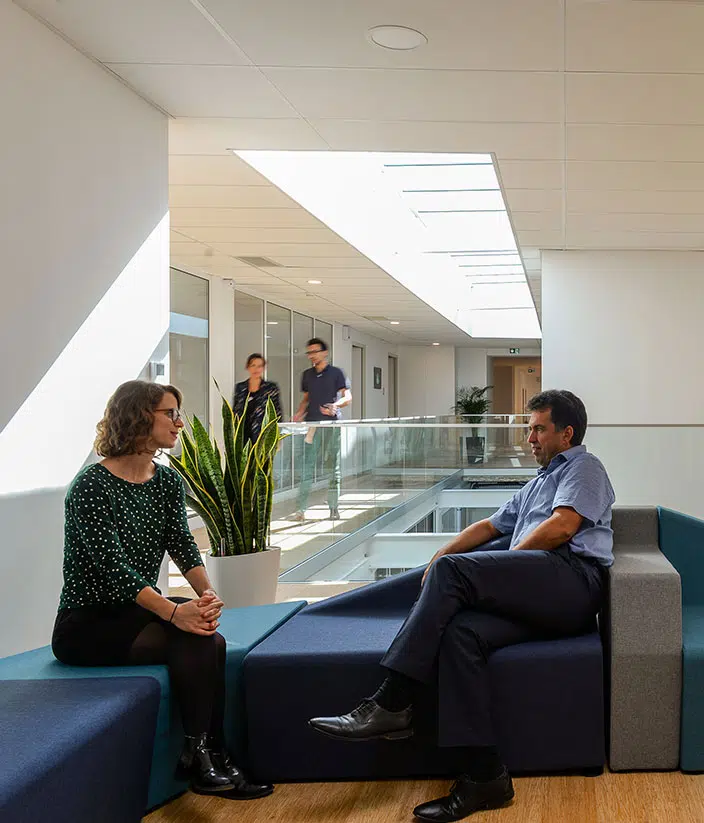 A partnership
When a project is launched, you don't become a client, but a true partner. This distinction is important. You entrust us with a need, a potential future market. It is an opportunity.
Our strategy is to accompany you in your innovation process and to assume part of the financial risk at your side. This is why we are opposed to the notion of a service provider. It is a "win-win" relationship with a common motivation of success in a minimum of time.
We establish with our partners a relationship of trust in the greatest discretion: 9 out of 10 projects are carried out under a white label and confidentiality agreement.
This proven experience in transforming ideas into industrialized products facilitates exchanges with all our partners. We approach all discussions with your purchasing, legal and quality departments with serenity.

CONTACT US
You have a question, a project?
We will get back to you as soon as possible..
"*" indicates required fields