A company born of scientific research
The OliKrom adventure began with 15 years of fundamental research conducted by Jean-François Létard at the Bordeaux Institute of Condensed Matter Chemistry (ICMCB), a CNRS research laboratory.
After several patent filings around color intelligence, the company was created in 2014 to address the issues of intelligent color changing materials.
It all started with an observation: too many industrial developments are still stopped in the field of intelligent materials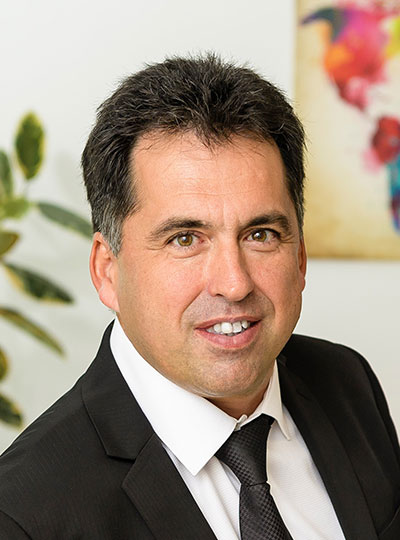 "A smart material is not just another pigment filler. By definition, a smart material is extremely sensitive to its environment. The slightest variation during synthesis or the simple addition of an additive transforms the surrounding environment and therefore the smart property: shift of the color change threshold, modification of the color, loss of performance. It is this lack of knowledge and technical mastery that explains why many industrial projects are still being halted. Today, OliKrom responds to the problems of industrialists by supporting them in their innovation process."
Jean-François Létard, founder and director of OliKrom
Support you from design to production
OliKrom was created to meet the needs of industrialists: to have a unique partner, from proof of concept to industrialized product.
Our goal is to provide a global solution to ensure perfect control of intelligent property, saving time and productivity for all our customers.
OliKrom, a start-up turned industrial SME
OliKrom is today an innovative SME and an industrial player recognized internationally for its ability to develop innovative custom solutions in the field of intelligent materials with color change or optimized luminescence properties.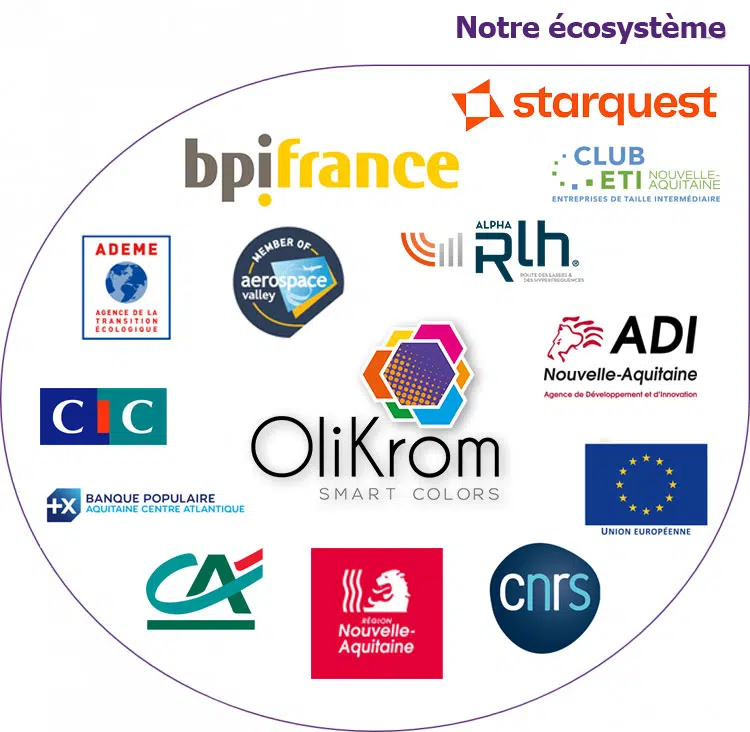 This spirit of innovation is in the genes of OliKrom. We attach great importance to the values of expertise, quality of service and commitment to our industrial partners. These values have defined OliKrom since its inception and have accompanied the company's continued growth.
OliKrom has found in the Nouvelle-Aquitaine region an ideal framework to develop its industrial activities with the support of the Regional Council and the Public Investment Bank (BPI). Structural programs have helped to co-finance OliKrom's development, such as the European Union with the European Regional Development Fund or the ADEME agency (winner of the "Road of the Future" program).
Today, OliKrom is an integral part of a rich and dynamic ecosystem through :
OliKrom in a few dates
2022 - The acceleration continues. The team and the industrial site are expanding to support the increase in production and the arrival of new products on the market.
2021 - OliKrom obtains ISO 9001 certification.
2020 - OliKrom raises a third round of financing of €5 million to accelerate the industrialization of its products and the marketing of LuminoKrom® marking.
Early 2019 - OliKrom launches the sale of LuminoKrom® photoluminescent paint that lights up at night to make travel safer.
October 2018 - OliKrom inaugurates its industrial site in Pessac (33, France), which includes the headquarters, R&D center and production plant.
June 2018 - OliKrom finalizes a 2nd round of funding of €4.5M from Starquest Capital and BPI France to accelerate industrial development and open its first production plant.
February 2015 - OliKrom completes its first round of funding with €300,000 from Starquest Capital and Pertinence Invest.
October 2014 - OliKrom SAS is created to design, integrate and produce intelligent color changing paints, inks, masterbatches.
2009 - The OliKrom transfer cell is created to support the maturation of this new generation of revolutionary materials.
2005 - A patent is filed internationally. It is the first of a long series.
1998 - Color change pigments are mastered on a laboratory scale.