Are you looking for innovation?
Are you looking to stand out from the competition?

Create an interactive product
You want to develop an interactive product with dynamic color change
Intelligent color changing materials provide this opportunity to create an innovative product. The color of an object is no longer fixed. It can change with its environment and be set as needed to appear and disappear. It is a real upheaval in the world of materials.
This is what we call color intelligence. Our team has acquired over 15 years of experience in this field. This unique expertise allows us to program the material by creating an adaptive color day and night on a room, an object, a product.
To develop your interactive product, we are able to make the material sensitive to temperature (thermochromic materials), to light (photochromic and photoluminescent), to pressure (piezochromic), to the presence of a solvent or a gas (chemochromic). It is a whole adjustment to the design of the material to define the property sought (reversibility, irreversibility), the speed of switching, the threshold of change, the nature of the colors,…
Such is the example of a product reactive to temperature that changes color (thermochromic materials) to warn of a risk of overheating, burns in industrial safety and/or predictive maintenance, of a packaging (pizza, drink) that indicates the right time of consumption…
In fact, the options for using a color change coating on a new product are virtually unlimited. We are able to integrate these technologies directly into the mass, or they can be deposited on the surface of an object, a package, a part in the form of ink, paint or varnish.
You want to develop a dual-use, customizable product
You are entering a new dimension. Not only does the color of the object change, but it becomes controllable, on demand, as many times as you want, and especially when you want!
This makes it possible to consider a product with a modular decor according to the use, a color during the day for work and a more festive atmosphere in the evening for entertainment.
It is also the access to ultra-customization. The item can be mass-produced (for cost optimization) and customized at the time of purchase, on demand to offer uniqueness, originality!
This is the promise of smart materials. We exploit the memory effect of certain materials, namely the hysteresis property that allows to memorize an event and to erase it. An product already widespread is the Pilot pen whose ink is erased by the heat of an eraser and reappears when cold (in the freezer). The material in this case is able to change between black and transparent under the controlled effect of temperature.
To address other demands, we combine the effects, for example inducing color change by optical means and reversibility by thermal variation. This is a rapidly expanding field of technology that continues to delight our teams.
You are looking to develop a fluorescent product
Fluorescence is the class of intelligent materials (ink, paint) that has the ability to absorb light and emit a luminous intensity, which stops as soon as the illumination stops. This is the phenomenon of fluorescence.
Fluorescent yellow, fluorescent pink, fluorescent orange … Everyone has seen these colors, whether on post-it notes or with highlighters or elsewhere. In reality, these colors are not ordinary: they attract the eye, they seem special, but why?
In the case of a classical color, the observed color results from a "subtractive synthesis". If we consider a yellow object, it is the only color reflected by the material (the rest: red, green, … is absorbed). In short, the object receives white light (composed of all colors), but only a fraction of it is re-emitted. Its color is yellow, but as it returns less visible light than it receives, it is necessarily a "cold" color that appears less bright than its environment.
In the case of the colors known as fluo, the reasoning is quite different. A fluorescent material has the ability to absorb invisible UV rays, and to transform them into visible light. As a result, the eye perceives a "warmer", brighter color.
This optical property offers multiple opportunities to create new items, especially in the fashion and luxury sectors, to enhance the consumer experience. To obtain the right fluorescent product, with the right color, and long-lasting properties, our team manipulates the most advanced scientific concepts in materials science and photochemistry. This involves selecting the best ingredients (organic, hybrid, inorganic, natural) to define the solution (ink, paint, etc.) with optimized fluorescent properties. This requires optimizing the fluorescence quantum yields by taking into account the absorption mechanisms of the matrix and of the pigment fillers, otherwise the fluorescence intensity will be extremely low. Similarly, many fluorescent derivatives have extremely low ultraviolet light fastness and fade very quickly over time. For this, we anticipate and study the processes with the help of accelerated aging chambers (Qsun,…).
The use of fluorescent materials is also a source of innovation in the field of industrial safety and predictive maintenance. Our teams exploit the phenomenon of fluorescence to amplify an optical signal, to detect traces and to make the invisible visible. For example, developments are underway to detect the beginnings of physical alteration (corrosion, delamination, etc.). Other projects require our teams to create new materials to facilitate the industrial identification of a transparent ink, to detect a gas or water leak, etc.
You wish to a develop a phosphorescent or luminescent product
This is the class of materials that has the ability to absorb light and emit a luminous intensity, which continues even if the illumination stops. Depending on the mechanisms involved, we speak of phosphorescence, bioluminescence, electroluminescence … All this defines the phenomenon of luminescence.
For example, we have exploited this property to create the first photoluminescent road paint that captures sunlight during the day and lights up at night for more than 10 hours, without any electricity consumption or CO2 emissions. This patented technology is now marketed under the LuminoKrom® brand. It is deployed in France and internationally to increase the safety of road markings as well as the visibility of shipwrecked people in the open sea to help with rescue.
Thanks to this luminescence property, you can define the color of your new product day and night. For us, it is an optimization of the photochemical cascade: to absorb at the right wavelengths, to emit in the desired spectral field, to obtain a high quantum yield, and especially a long duration of luminescence. The slightest misunderstanding of the physical phenomena involved leads irreparably to a weak luminescence in intensity and duration.
Innovate and succeed
You are looking for an element of differentiation
The integration of an intelligent material can give you years of advantage over your competitors. These "chameleon" coatings represent a true innovative distinction that is very difficult to imitate. If you are interested in launching an innovative product integrating these new features, our teams are at your side to advise you.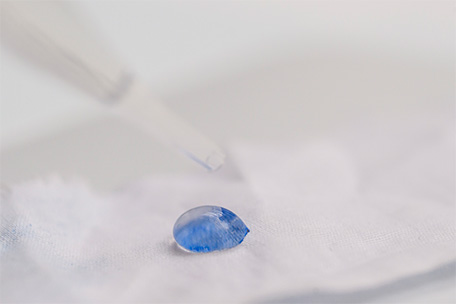 These smart materials bring into play atypical and complex physical processes that make these objects rich but also unique. It is very easy to irreparably alter the targeted property, which requires a high level of technical expertise to master the formulation and solution development stages.
This explains why the market positioning of these new technologies is still limited. You can find smart pigments on the internet, but with our experience, we know that each specification has its own requirements and that there is no finished product on the shelf. 
We accompany you in your innovation process, we evaluate your project and its options, and make the right choices to find the best compromise between the "expression of your need" and the real potential of smart materials, to transform your ideas into products in a minimum of time!
Innovate and succeed
You want a partner from A to Z.
You have too often developed innovative products and encountered the problem of "passing the baton" between design, pre-industrialization and industrialization. At each stage, the change of interlocutors can lead to misunderstandings, delays, technological failures… In short, to failure!
At OliKrom, in order to be fast and efficient, we have chosen to be your unique partner, from design to industrial production, including formulation. This way, we make each step of the process as fluid as possible: proof of concept, pre-industrialization, manufacturing…
One of our concerns is to reduce design and industrialization times as much as possible so that you can be on the market as soon as possible with your new product and, ideally, before your competitors.
You are constrained by deadlines
Whether it's for the launch of new collections, or even a safety issue that needs to be resolved quickly on an industrial site, we are at your side. Many companies in all sectors call on our skills to create, in complete confidentiality, the innovative products of tomorrow. Depending on the targeted application, our developments can take place over a long period of time in order to respect all business constraints, but also in a short period of time for the launch of new collections.
At OliKrom, we love challenges! Our agility allows us to quickly adjust, for example, the targeted property to meet design, marketing or technical challenges, to reinforce a color, to modify the composition of a matrix (ink & paint) or to improve the definition of a surface finish (gloss/matt, curvature…).
Our proven experience in the transformation of "idea into product" in many fields also allows us to anticipate. To overcome any difficulty during development, we regularly exchange with your technical, marketing and product strategy teams.
We know, for example, that the launch of an innovative product involves several people at different stages of the development process. Knowing how to transform ideas into intelligent products is a unique expertise that facilitates exchanges with our partner-clients. We approach all discussions with your innovation, marketing, design, purchasing, legal and quality departments with serenity. The exploitation of intellectual property, the establishment of a supply contract, the notions of exclusivity are all elements whose negotiation can quickly waste time.
Your concept remains to be refined 
This is the richness of our profession. You know the market, your product, you have an "idea". Our expertise is the programming of materials to change their properties and their manufacture on the scale of inks and functionalized paints ready for use. Together, we will co-construct a specification with achievable objectives by integrating functional, technical, economic and regulatory constraints.
"Today, 97% of our partner-clients are satisfied with our services and our responsiveness.
To guarantee the success of your innovative project, we will also be a source of proposals. The reactivity and know-how of our company in the field of smart materials allow us to be a force of proposal to create the optimal solution.
One of our requirements is to be always at the forefront in the field of color intelligence. We are constantly seeking to improve our products to be able to offer you the most successful technological idea, the most relevant choice with regard to your product (market) expectations. We are constantly implementing new chemistries, looking for new intelligent pigments, new functionalities, new strategies to minimize development time.
You are in an ultra-competitive world and you hesitate to innovate
We believe that price is a source of innovation and differentiation. It is up to us to be agile and to find the solution. We approach the technical and economic evaluation of an innovation with serenity. For us, the economic dimension of a market and its "price acceptability" to future customers is an input to any innovative project.
Of course, not everything is possible. But the world of intelligent materials is being written every day. It is a true revolution of rupture which offers multiple opportunities in many fields. Don't hesitate to talk to our teams. Our approach is pragmatic and you will get a sincere feedback.
We have a common goal, to get the product to market in the shortest possible time. Before each new program, we indicate to our partner our confidence coefficient and take 50% of the development costs at our charge. For us, R&D development is a necessity, not a goal!
OliKrom, a "Made in France" production
Our company is French and all of our products are manufactured in our factory located in Pessac, France.
We are referenced by many national and international companies' purchasing departments. Our services are regularly audited and we welcome you to visit our company and its factory.
Our company is also certified ISO 9001. The quality of our products is controlled throughout the process and our suppliers of raw materials or services are regularly evaluated. Depending on the market, our plant ensures the development of innovative technologies on a kilo to ton/day scale.
Is innovation part of your strategy? Do your teams want to launch a new design, a new idea? Are you looking to differentiate yourself by innovating?  Our teams are at your disposal to challenge your ideas and, with a minimum of time and investment, transform innovation into wealth.
---
To know more about our products.
INDUSTRIAL PRODUCTION OF SMART COATINGS: OLIKROM'S WINNING BET
---
Are you planning to integrate a color change technology? Our experts are at your side