Are you looking for a material that changes color with temperature?
OliKrom is a recognized player in the field of thermochromic materials. We work for many industrial sectors: aeronautics, food, automotive, construction, cosmetics, defense, energy, luxury, medical, transportation, etc.
We put at your disposal our 15 years of experience in the field of thermochromic technologies to design and produce inks and paints with high added value.
The three main families of thermochromic
A thermochromic coating (from the Greek thermos for temperature and chromos for color) is made of a pigment/colorant whose optical properties change according to temperature. The material becomes reactive when exposed to a heat source.
We distinguish three main groups, depending on whether the property of color change is reversible, memory effect, or irreversible.

Reversible thermochromism
The color change is reversible and progressive, centered around the temperature T1. Depending on the demand, T1 can be adjusted from -100°C to +1000°C.

Thermochromism with memory effect
The color change occurs at a temperature T1 and returns to its original color when the temperature drops to T2. The difference between T1 and T2 defines the memory effect.
OliKrom, producer of thermochromic technologies 
A unique know-how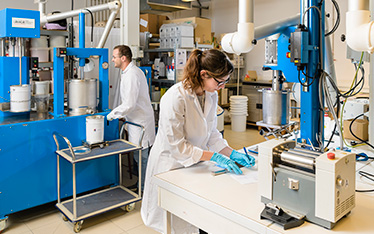 Through experience, we know and avoid the pitfalls frequently encountered with thermochromic materials: the choice of transition temperature, loss of properties during formulation and/or the industrial process, sensitivity to ultraviolet light, low coloring power, process fatigue during thermal cycles, limited thermal resistance (200-240°C), toxicity of certain constituent elements, etc.
The opportunities are real. There is a real wealth of physical mechanisms at the origin of thermochromism. We encounter, for example, mechanisms of electron or proton transfer, coordination site modification, intramolecular cyclization, etc.
Our team masters all these advanced concepts in materials science to produce thermochromic pigments, inks and paints.
A thermochromic product adapted to your needs
Depending on your specifications, we opt for an organic approach (such as liquid crystals or "leuco dyes"), a hybrid approach, or an inorganic approach. Each of these options has advantages and disadvantages that we share with our customers.
According to the specificities of your request, our teams program the thermochromic pigments. By chemical modification, we adapt the thermosensitive property to become reversible or irreversible. We adjust the color modification threshold over a wide range of temperatures (from -200°C to +1000°C). We modulate optical properties in the Ultraviolet, Visible and/or Infrared regions.
Secure production of thermochromic coatings
For all application fields, we ensure a recurrent and reliable production. In view of our experience, each industrial application is unique, just as the pigment – matrix pair is crucial to control the thermochromic property and its stability.
For this, we produce our own thermochromic pigments but only deliver the final formulation (ink and paint) in the form of :
thermochromic inks (UV, solvent) adapted to printing techniques (screen printing, pad printing, …)
thermochromic paints (acrylic, polyurethane, …)
thermochromic plastics (polyethylene, polypropylene, …)

Each production (inks, paints, masterbatches) is identified, traced and accompanied by a performance certificate co-constructed with our industrial partner.
Heat-sensitive materials: some examples of applications
Industrial maintenance
In the field of industrial maintenance (energy, petrochemicals, nuclear, etc.), the use of a thermochromic coating offers many possibilities. The color modification of an ink and/or paint allows to control the temperature dynamically without any wiring and electricity supply as opposed to a thermocouple whose fragility is prohibitive for some uses.
For example, a heat reactive indicator can be used to monitor the surface of an engine to warn of an overheating condition, of an electrical element to detect a short circuit, of a tank to visualize its filling level, of an industrial pipe, of valves, ovens, etc. to control the occurrence of an anomaly.
Aeronautics, space, defense
The use of thermochromic coatings allows, for example, to control the health of composite structures and the risk of delamination inherent to an abnormal rise in temperature.
Medical and/or food industry
The use of thermochromes allows to control the thermal evolution of an element, to identify for example a break in the food cold chain, to attest the conformity of storage of a medicine, a vaccine, …
Intelligent packaging
The use of a heat-sensitive coating can reveal a counterfeit, authenticate a product, or even simply create an indicator of well-being, of proper use, such as labels on wine or beer bottles, on takeaway containers, cups, etc.
Scientific experts at your side
To accompany you "from the first idea to the final product", the experts of our three departments are at your disposal at each stage of your project: research and development, pre-industrialization and industrialization.