OliKrom, looking back on an intense 2022, and 2023 projects
09/01/2023
Reading time 10 minutes
OliKrom and its team wish you health, happiness and success in the new year and thank you for your loyalty.
This new year 2023 promises to be intense with many projects in development and the expansion of our production plant to prepare the arrival on the market of new disruptive products in the fields of cosmetics, industry and luxury.
Thank you to all our industrial partners for their renewed confidence.
2022, a year of structuring
Expansion of the industrial site
In September 2022, we acquired a 4,500 m² plot of land adjacent to the current production site in Pessac. This is the former Courtepaille site located at 9 avenue de la Tuileranne.
This operation allows our teams to prepare the future with serenity in New Aquitaine. We are thus tripling the surface area of our industrial production site to support the intensification of the production of our LuminoKrom® photoluminescent road paint and to initiate the industrialization of new breakthrough products in the cosmetics, industry and luxury sectors.
Since this announcement, one step after another has taken place… The site has been secured. The building permit has been filed and validated by the Bordeaux Metropole and the Pessac City Council, whom we thank. The existing building is being demolished and we can't wait to lay the first stone!
We would like to thank all the actors who are supporting this acquisition operation: CIC Sud-Ouest and Crédit Agricole d'Aquitaine, as well as the City of Pessac and Bordeaux Métropole within the framework of the Bordeaux Inno Campus operation of metropolitan interest (OIM), a vast planning and economic development project.

Continued growth in the workforce
In 2022, OliKrom's workforce has continued to grow with the creation of new functions, even though 2021 had already seen strong growth of +25%. There is no doubt that 2023 will be in the same vein, rich in recruitments with the search for and the reception of new talents: commercial, technical, administrative…
Among the functions created in 2022, let's underline the structuring of a Marketing and Communication department, the growth of the commercial force of the LuminoKrom® product, in particular to support the ever more intense demands in the community and industrial sectors, and the reinforcement of a production agent.
All this is possible only thanks to you. To all our industrial partners who are by our side and trust us daily in our developments. Not forgetting our chance to benefit from an ideal setting in Pessac (Bordeaux Metropole) and the richness of the New Aquitaine ecosystem!
Increasingly intense scientific activity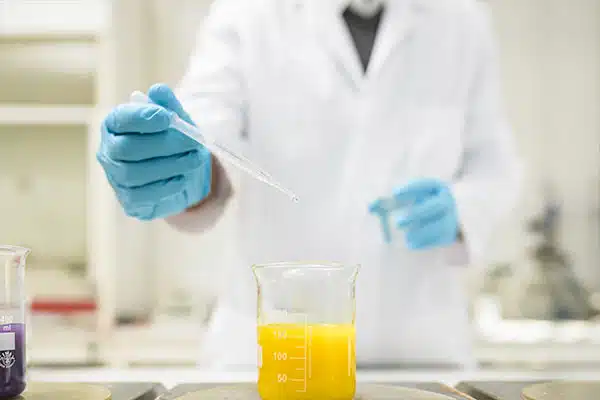 2022 has been even more intense for our teams in the Research and Process Formulation departments. As a committed company, our scientific teams are intensifying their efforts to support our industrial partners in sustainable technological innovation.
The objective is to create new eco-responsible solutions to meet the major environmental challenges of tomorrow.
How can we make our "future products" safer, more economical and environmentally sustainable? How can we replace the ingredients in a color formula to meet regulatory and health issues?
Our teams are already innovating and preparing future OliKrom products to answer each of these questions.
A job site every 2 days in 2022 for LuminoKrom® photoluminescent paint

With a job site completed every 2 days in 2022, LuminoKrom® photoluminescent technology has reached a new level. It is the only photoluminescent road paint on the market capable of lighting up at night for 10 hours, without any power supply or CO2 emissions, to make pedestrian and cyclist movements safer.
Faced with the challenges of energy sobriety at the end of this year, LuminoKrom® photoluminescent road marking appears as an economical and eco-sustainable alternative. Requests are increasing to accompany the extinction of public lighting in our cities.
This solution patented by OliKrom has also attracted international interest with projects outside our borders: Belgium, Burundi, Cameroon, Canada, United Arab Emirates, Japan, Luxembourg, Nigeria, Senegal, Switzerland…
With a growth of more than 100% of sales per year, the expansion of the factory will allow the company to meet the growing demands of communities, applicators and design offices around the world.
2023, the rise to power
The year 2023 looks promising, with an increase in activity and teams. The acceleration of our first commercialized product LuminoKrom® is underway, with a response to a major challenge of security and sustainable technological innovation. It is a perfect illustration of our company's raison d'être.
Several other innovative products are, and will be, deployed in the years to come in the cosmetics, industrial and luxury sectors… Our teams are already preparing for these new challenges.
A certified production site, a continuity plan underway
Since its creation, OliKrom has always placed customer satisfaction through the performance of its products and the quality of its scientific input at the heart of its strategy.
In 2021, our production site was certified ISO 9001. Since then, our quality system has been regularly amended, and each pitfall encountered is a path to progress.
In this year 2023, we are continuing this structuring. Our teams are working hard on the ISO 22301 Business Continuity certification, to anticipate any type of event, secure our production and reassure our industrial partners.
Each new step is a source of collective and individual progress.
LuminoKrom® marking compliant for urban use
LuminoKrom® White AW1000S solvent-based paint complies with all the requirements of the NF 058 "Road Equipment" standard. The photoluminescent paint has demonstrated its resistance and performance after 12 months of intense traffic, equivalent to the passage of one million wheels (class P5).
The certification process for road markings is carried out each year by CEREMA (Centre d'Etudes et d'Expertise sur les Risques, l'Environnement, la Mobilité et l'Aménagement) under the supervision of the Association pour la Certification et la Qualification des Equipements de la Route (ASCQUER) on the experimental site of the RN2 located in Boissy Fresnoy in the Oise region.
This is an important step for LuminoKrom®. These road tests attest to the durability of photoluminescent products in real conditions of use, on a traffic route used by more than 17,000 vehicles per day.
This also allows the deployment of photoluminescent markings to improve visibility in the dark, particularly in cities that turn off their electricity for part of the night: luminescent markings around crosswalks, bike paths, sidewalks and pedestrian walkways, chicanes, parking lots, unloading zones in private property, etc.
Certification is expected in the coming weeks.
A presence of our experts in trade shows, do not hesitate to come and meet our teams
The year 2023 promises to be a busy one for trade shows and events.
In terms of innovation and new product development, our OliKrom teams will be present at HyVolution, JEC World (the world's leading trade show dedicated to composite materials and their applications), and the Paris Air Show. This will be an ideal opportunity to discuss with manufacturers from various sectors the opportunities offered by intelligent materials and their uses to meet the challenges of safety, performance and production reliability.
Our LuminoKrom® teams will be present at the FUB Congress, at Vélo-city in Germany, at the Salon des Maires (SMCL) to meet local authorities, applicators and other private actors interested in this innovative marking solution. This will be an opportunity to evaluate future projects and discuss future programs.