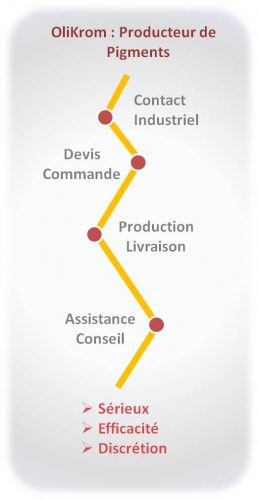 OliKrom's production unit ensures the delivery of smart pigments respecting quality approach (color, size …) and regulation control (SDS, REACH …).
Depending on the application, OliKrom adapts its production facilities:
For "personalized" achievements into reactors from kilograms to hundreds of kilograms,
For production of pigments up to the ton.
Today OliKrom produces :
Pigments as dry powder for amounts ranging from kilogram per ton (on study),
Pigments in aqueous suspension (slurry) and / or emulsion into specific media (inks, resins, plastics, …),
Pigments with a wide choice of color change,
Pigments with reversible and / or irreversible color change,
Pigments with a particle size ranging from nanometer to micrometer,
Non-toxic pigments in accordance with the new requirements of legislation.
With its industry experience, the manufacturing unit OliKrom, located in Bordeaux (France), guarantees internationally delivery with promptitude and with a level of impeccable quality for all type of industries.
Production equipment
Reactors,
Press-filter,
Industrial stove,
Cyclone mill,…