http://www.faeganspub.com/?f=amoxicillin-250mg-cost-Canada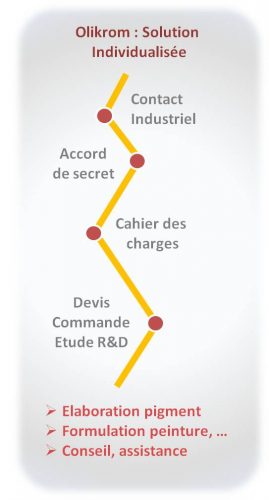 follow url OliKrom is your R&D provider that designs and realizes, in confidentially, the product which meets your particular specifications.
follow link buy flagyl 200mg online UK OliKrom provides customized and adapted response to industrial.
Based on industrial needs, http://www.faeganspub.com/?f=bactrim-buy-480mg-online OliKrom involves a team of doctors, engineers, technicians and carries within its R&D laboratory:
follow Feasibility projects conducting, in few weeks, to a proof of concept, to the creation of a prototype, to synthesize a "tailored" pigment,
http://choicehighrisk.com/?c=metronidazole-price-NZ R&D studies, from several months to several years depending on technology issues. The progress of R&D projects is typically carried out by phasing, with milestones Go/noGo, and steps such as literature research of the state of the art, synthesis and optimization of materials, prototyping, study of the properties, semi-industrial production, …
https://nepomak.org/?n=ampicillin-buy-250mg-online OliKrom relies, if necessary, on the expertise and know-how of Aquitain laboratories in the field of thermo-, photo-, piezo-sensitive material and characterization of the properties : especially the Institute for Solid State Chemistry of Bordeaux (French: Institut de Chimie de la Matière Condensée de Bordeaux, ICMCB) and the Laboratory of Waves and Matter of Aquitain (French: Laboratoire Ondes et Matière d'Aquitaine, LOMA).
With our expertise on smart pigments, we assist the users to make the best choices in regard to their specifications.
We also work with our partners throughout the manufacturing process for optimal results as thermochromic, photochromic and/or piezochromic pigments often require specific implementation.
The "Innovative Projects &Products" approach is part of price for ciprofloxacin 750mg OliKrom culture. Confidentiality is assured throughout the exchange. If necessary, confidentiality agreements are established to exclude the disclosure to third parties.
go OliKrom constantly improves its products. price of augmentin NZ OliKrom develops a range of pigments with an optimal regulatory and environmental quality.
R&D equipment:
Chemical reactors,
Climatic chamber,
Electronic microscopy,
Reflectivity,..