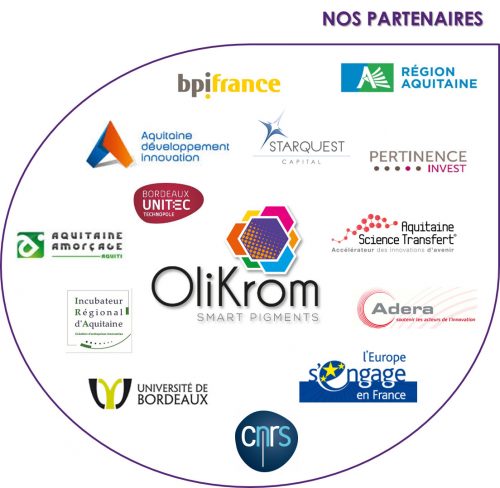 The OliKrom® products are the result of fundamental researches conducted at ICMCB (Institute for Solid State Chemistry of Bordeaux), a CNRS research laboratory.
Today, after eight years of technological maturity, OliKrom produces color-shifting paints, inks, master batches at industrial scale.
OliKrom found in Aquitaine Region an ideal surrounding for the development of its activities with the support of the Regional Council, BPI (Public Bank for Investment) and Aquitaine Amorçage.
OliKrom joined a rich and dynamic ecosystem through
the Bordeaux Unitec center of technology
Aquitaine Development Innovation (ADI)
the Aquitaine Regional Incubator (IRA).
OliKrom has also the support of the CNRS (French National Center for Scientific Research), the ADERA (Association for the Development of Education and Researches) and the AST (Aquitaine Sciences Transfer)/ University of Bordeaux.
OliKrom in few dates
1998 – The OliKrom® colour-shifting pigments are mastered at laboratory scale.
2005 – A patent is internationally filed. This is the first of a long series.
2009 – The technologic transfer unit OliKrom is created to go along with the maturation of this new generation of smart materials.
October 2014 – OliKrom Company is created to design and to produce color-shifting paints, inks, master batches.
December 2014 – OliKrom concludes its first fundraising with Starquest Capital and Pertinence Invest to accelerate the industrialization of its smart products with chameleon properties !…