Create high-security inks
Designer and producer of high-performance tamper-proof inks
OliKrom offers 15 years of expertise in color intelligence to design and produce ultra-high security inks.
Our teams benefit from a unique scientific culture in materials science and photochemistry to formulate secure identification solutions into security inks, specially adapted for printing banknotes, security documents, identity cards: silk-screening, pad printing, flexography, intaglio...
Scientific innovation in the fight against counterfeiting
Today, the fight against counterfeiting concerns all industrial sectors: trademarks, goods, intellectual property. Products such as medicines, software, electronics, perfumes, liquors, wines, clothing, food, etc. are subject to a large number of counterfeits. It is a constant race to be more inventive than the counterfeiter.
OliKrom has always placed innovation at the heart of its strategy. Each year, more than 30% of our investments are dedicated to research and development. One of our requirements is to always be at the forefront in the field of color intelligence. This allows us to advise you, to implement perpetual breakthrough innovations and to anticipate the security inks of tomorrow.
This daily research and development work allows us to be a recognized player in the fight against counterfeiters. We design and produce smarts trackers, more or less discreet, depending on the level of security required to signal counterfeits, make replicas more complex, and improve the quality of consumer confidence.
To create a security ink and reinforce the protection of a product, we exploit the diversity of physical processes of intelligent materials. This technological breakthrough offers the ability for pigments and dyes to change their properties (absorption, emission) according to an external stress (temperature, light, pressure, pH, gas).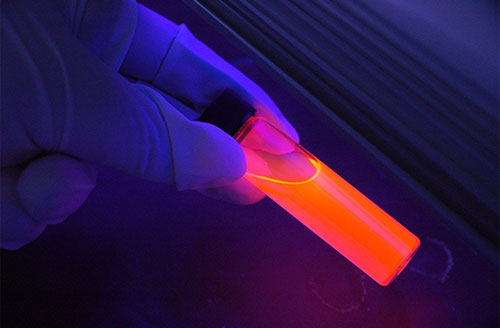 By molecular engineering, our doctors and engineers program the material and produce inks with changing optical properties according to :
The optical effects created offer multiple combinations to track down counterfeits and guarantee the origin of a product. This type of approach completes the current generations of protection obtained with invisible inks that react under ultraviolet light.
A customized approach
Our objective is common: to reinforce the security of documents, to guarantee the origin of your product, to increase the protection of your brands and to protect them from counterfeiting.
Depending on your needs, we will develop level 1 security keys that can be seen by everyone, or a higher level for enhanced control.
By level 1 security inks, we mean "general public" protection keys that allow end consumers to authenticate their purchases themselves. Based on visual detection, the control is simple and fast, understandable by all, and can be done without additional tools. Their use is reassuring and constitutes a first level of security to avoid the acquisition of a reproduction or an imitation.
For our formulation unit teams, the use of a level 1 security ink requires optimizing the perception with the naked eye. We take into account the counterfeit product to be protected but also its direct environment, its packaging, its label, the replicas already identified. This imposes a choice of activation means (temperature, light...) and also an adjustment of the detection threshold, the choice of colors, the layout...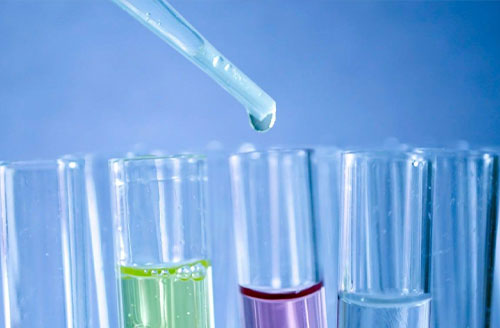 This culture of anti-counterfeiting and this agility in mastering the formulation of security inks, allow us today to intervene in all industrial fields: security documents (banknotes, ID cards, passports), luxury goods, watchmaking, leather goods... and product lines: watches, perfumes, clothing...
On a daily basis, our teams transform "protection requests" into "security inks", some of which are already on the market.
High performance ink production Made in France
A research center and a factory located in Gironde (33)
Located near Bordeaux (France), OliKrom is the world leader in intelligent color change materials. We claim to be Made in France with a very high scientific standard.
All our products are the result of a unique expertise in color intelligence protected by several patent portfolios.
We produce our coatings from kilogram to ton/day and we guarantee the delivery of our inks in the shortest possible time, with an irreproachable quality level: intelligent inks for screen printing, offset pad printing, UV, solvent inks.
Assurance of obtaining quality products
Our expertise and our quality approach, ISO 9001 certified industrial site, allow us to meet production requirements in environments with strong security and/or regulatory constraints.
Our teams and our process are frequently audited for new industrial partners during the transition to production. Your teams are welcome.
Culture of discretion and confidentiality
You will not find any data on our technologies or description of our know-how, we voluntarily remain discreet about our offer.
This culture of secrecy allows us to maximize the impact of our anti-counterfeiting technologies. Each solution is tailor-made in close collaboration with our industrial partner according to the level of protection required.
Counterfeiting and authentication
Today, all sectors (trademarks, goods, intellectual property) and all types of companies (states, countries, customs) are concerned. For several years, counterfeiting has been expanding rapidly, facilitated by the globalization of trade and the development of the Internet and online commerce. In France, customs seizures of counterfeit products have increased from 200,000 items intercepted in 1994 to 5.64 million in 2020.
To counter this threat and reassure consumers everywhere, it is essential to strengthen the protection of luxury items (watches, clothing, bags, accessories, etc.) by making it more difficult for counterfeiters to work.
One of our missions is to create intelligent trackers, more or less discreet, depending on the desired level of security, in order to signal counterfeits, make replicas more complex, and improve the quality of consumer confidence. Our developments lead to level 1 security keys that are visible to all, or to a higher level for enhanced control.

CONTACT US
You have a question, a project?
We will get back to you as soon as possible..
"*" indicates required fields