Why OliKrom's intelligent pigments are so attractive to industry
03/05/2017
Reading time 13 minutes
OliKrom is an atypical startup. In just two years, it has become the leader in "intelligent" materials that change color according to temperature, pressure and light.
Profitable from the start, it has an ambitious industrial project and already has 70 major groups as partners, two and a half years after its creation. In this interview with La Tribune, its founder Jean-François Létard describes his development strategy, discusses the current trend of deep tech startups and reminds us of the importance of technology transfer units in the development of disruptive innovations.
OliKrom, the intelligent materials expert
Born from the work of Jean-François Létard, former director of research at the CNRS, conducted within the Institute of Condensed Matter Chemistry in Bordeaux, OliKrom initially developed intelligent pigments capable of changing color according to changes in their environment: change in temperature, pressure constraints, change in brightness, presence of a solvent or gas…
OliKrom designs highly resistant pigments that can be programmed to change color, whether or not they are reversible.
The idea is to be able to identify at a glance a part of an aircraft that has been overheated or impacted, to imagine walls whose paint changes color depending on the time of day… The industrial applications are endless.
The startup offers its innovative solutions based on this technology to manufacturers in all sectors. Focus on its strategy with its founder and manager Jean-François Létard.
You created OliKrom in October 2014 in Pessac near Bordeaux. What is your strategy and what are your results?
"First and foremost, it is important to clarify one important point: we do not sell the intelligent pigments we design. OliKrom's objective is to create and produce complete innovative solutions for industrialists based on this technology. We offer a global response to their problems by co-developing and selling them ready-to-use paints, inks, coatings, etc., which change color according to environmental constraints, for example, in an autonomous manner, without the need for electricity or anything else. The needs of these industrialists are such that they co-finance with us the development of the products, knowing that this stage can take between 2 and 4 years. I won't give precise figures because we want to remain discreet about them and not whet appetites, but our first two financial years have been profitable and we have now contracted with 70 major groups, including 50 last year. More than 50 percent of our sales are international."
Almost all of these partners want to remain discreet, but two names are already known, Airbus and Safran, with whom you are working on coatings and materials that change color depending on temperature or possible impacts. You have also just announced a new partnership with Eiffage. On what subject?
"We are working together on the issue of road safety. The objective is to offer Eiffage Route and its subsidiary AER, which is dedicated to road equipment, innovative solutions for road signs. An initial application currently being tested will improve the visibility of road markings, particularly at night and in poor weather conditions, by using photo-luminescent pigments. We can thus imagine equipping crossroads and bicycle paths which today are in the dark, but whose coating could, tomorrow, capture daylight and car headlights to give it back autonomously.
Phosphorescent materials have existed for years but have never been used in the industrial world. The visibility of watches at night is the only application that has been developed. We are therefore working on solutions based on our intelligent pigments to meet a real industrial challenge that phosphorescent materials, which have a very short lifespan, cannot meet. Other opportunities should gradually emerge in other areas of Eiffage's business.
A 5 M€ industrial project
For several months now, you have been announcing your intention to set up an industrial site. Where do you stand?
"People often forget that OliKrom is only two and a half years old. Indeed, I have been talking about this subject for some time. Our company is not intended to be a simple laboratory or design office, and certainly not to be sold. Our goal is to become a real industrial player, and one that is anchored in New Aquitaine. We are therefore moving forward, but in a concerted manner, because we need to obtain authorizations and the approval of local authorities… We are talking about an industrial site, handling chemicals, easy access to the road network for the plant.
It is a 5 M€ project. We are looking for a plot of land of between 5,000 m2 and 1 hectare to set up a 2,000 m2 industrial site, ideally around Pessac where the university soil is fertile. This may seem ambitious, but if we don't think big, we will quickly be stuck because when we work with an industrialist, he has a contractual obligation to buy from us once the project is completed. At the same time we are recruiting about one person every two months, with the ambition to quickly grow from 10 to about 30 people."
The creation of your company was a long process, but you say that it is now a determining factor. What do you take away from this period?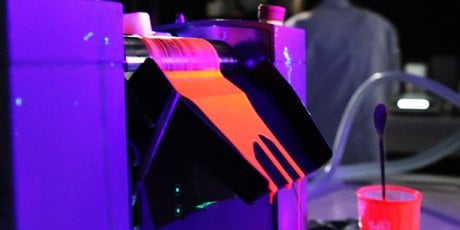 "We started with a technology developed at the Institute of Condensed Matter Chemistry in Bordeaux. We don't see enough of the fantastic work of technology transfer cells. The OliKrom project was incubated for 5 years at ADERA (Association pour le développement de l'enseignement et des recherches, NDLR) before the company was created. The important thing is not to create a company, but to build on a good foundation, to develop it and make it last. From the beginning, 4 investment funds tried to enter the capital, but only 2 entered, and they were captured in value. This was because we had a mature file, thanks to the technology transfer unit. We had a precise business model, an embryonic team, and due diligence was carried out under good conditions because we already had our first client partners with whom the funds could exchange. Right away, the valuation is not the same. If it is bad from the start, in the second or third round of financing you have a great chance of disappearing."

Your business model is atypical. How is it different?
"First of all, the classic business model of a startup is that it develops only one product and is entirely focused on one market. At OliKrom we take the opposite approach by working for all industrial sectors. Requests come from the world of luxury, automotive, aeronautics, military…"
You are part of the deep tech movement, these young companies that push disruptive technological innovation and sometimes consider that "classic" digital startups are really not very innovative and consider them too fragile. What is your feeling?
"That you always have to be careful when giving an opinion. It's always possible to remake the game. I have the feeling that in the development model of digital startups, the objective is often to generate cash quickly and to sell just as quickly. It's a short-term logic that is undoubtedly pushed by investment funds and that takes many startups away. I am not sure that this strategy creates sustainable jobs. Moreover, these jobs are very "displaceable" in all parts of the world. Our approach, like that of Poietis which we know well, is to create a real industrial tool anchored in our territory while offering a real technological breakthrough."
Like you, Fermentalg, which produces microalgae for various markets, started from a technological innovation in the laboratory to become a full-fledged company. But it's having trouble getting to market. What makes you fundamentally different from them?
"We do share some history, but our paths are different. This does not mean that we will do better than Fermentalg! Unlike Fermentalg, our model was to immediately seek out partner clients with whom to work and co-innovate. This explains why, two and a half years after our creation, our first products will arrive on the market, in a few months and abroad. And you will never know that OliKrom is at the origin of these products, even though we own the product and its formulation. It's frustrating but that's the game. Our partners are already established in their markets, which is not our case.
After that, our model has its limits and we pay the price. By co-innovating with Eiffage, it is not certain that I can work with a Colas or a Vinci. Deploying our own innovations, as many startups do, is another strategy. We'll probably get there one day because in some markets, there aren't big enough players. But it's not on the agenda yet. We're focused on being an entry point for industrial demands, a chameleon that blends into its environment. It's a model that works for us, but I don't want to suggest that it works for everyone."
---
Find out more.
ALL ABOUT INTELLIGENT COLOR CHANGE MATERIALS
INTELLIGENT MATERIALS: A SOCIETAL EVOLUTION
INDUSTRIAL PRODUCTION OF INTELLIGENT COATINGS: OLIKROM'S WINNING BET
---
Are you planning to integrate a color change technology? Our experts are at your side
Contact us