The LuminoKrom innovation was distinguished by the Roads and Streets Innovation Committee as part of the 2019 edition of the "Roads and Streets" call for innovative projects.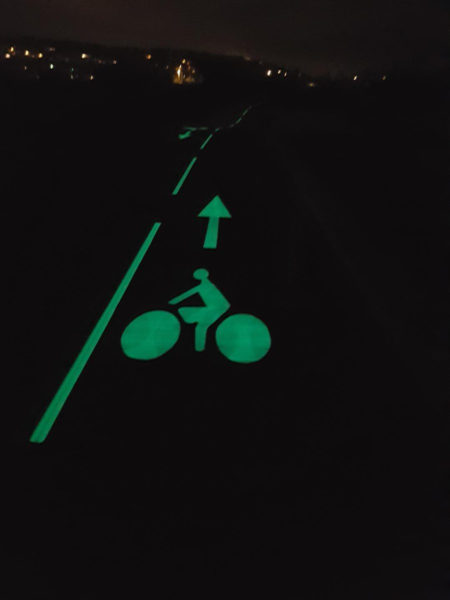 OLIKROM – Luminokrom Vision photoluminescent marking
LuminoKrom® photoluminescent road paint captures and stores sunlight or headlights and returns it at night. To do this, the paint contains innovative and durable pigments, the peculiarity of which is to emit light without a power source.
This performance was made possible thanks to the I-STREET innovation program coordinated by the Eiffage group and winner of the "Route du futur" call for projects supported by ADEME and the investment programs for the future.
The 1st "life-size" experiment was carried out on a 2km cycle path in Pessac, in the Gironde – very close to the offices of OliKrom – thanks to Bordeaux Métropole, manager of the Bordeaux urban area's cycling network.
The Roads and Streets Innovation Committee
Set up by the General Directorate of Infrastructures, Transport and the Sea of ​​the Ministry of Ecological Transition, this initiative allows the launch of demonstration sites to test innovations in real environmental conditions, with monitoring ensured by the Cerema.
The "Roads and Streets" call for innovation projects has chosen the following four themes for 2019:
Construction and maintenance of the Roads and Streets heritage
Preservation and modernization of existing structures
Optimized use and management of transport infrastructure in urban and inter-urban areas, tools and equipment for intelligent transport systems

Preservation of biodiversity and water quality
On the advice of the Roads and Streets Innovation Committee, the Director of Transport Infrastructure, Sandrine Chinzi, selected eight winners for their innovative character and their potential interest, including luminescent marking LuminoKrom, developed in partnership between the Bordeaux start-up OliKrom and the Eiffage group.