OliKrom, a scientific approach from idea to product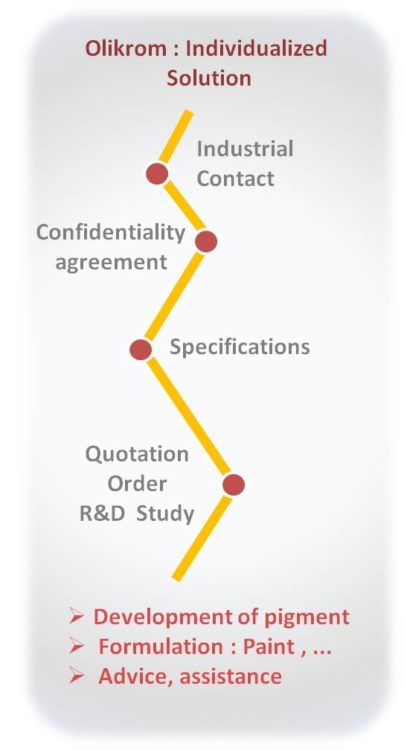 OliKrom designs and produces "on demand", in complete confidentiality, the appropriate solution (paint, ink, masterbatch, etc.) meeting specific specifications.
Thanks to our unique expertise in the world of color intelligence, OliKrom acts as a partner in the innovation process. We are proactive to best meet the specificity required by the specifications, and support the industrialist from design to production of the appropriate solution.
To carry out this process, OliKrom relies on a multidisciplinary team of doctors, engineers and technicians. Project progress is phased, with Go/noGo milestones, and stages such as
state-of-the-art bibliographic research,
proof of concept: production of a prototype and / or synthesis of an adapted "tailor-made" solution to demonstrate the desired effect,
pre-industrialization: including operability on an industrial site with all the necessary optimizations
industrial validation: scaling up, implementation of a quality approach, approval, audit, negotiation with the purchasing department
industrial production
The "Project & Innovative Products" approach is part of OliKrom's culture. Confidentiality is guaranteed throughout the exchanges. Where applicable, confidentiality agreements are established to exclude disclosure to third parties.
Our teams at your service
Throughout the development of the idea to the product, we mobilize our teams from the Research and Development departments of Innovative Materials, Formulation and Process, Quality and Production.
The materials department is responsible for the design of innovative "tailor-made" intelligent pigments.
The formulation and process unit transposes the intelligent property to the scale of a matrix, paint, ink, plastic.
The quality and production department is in charge of delivering all of our color change products.
Throughout the development, our team of experts is at your side to ensure technical assistance and optimal implementation.
Do you have a project?
Send us a message, our experts will get back to you as soon as possible.