OliKrom, an expert team in color intelligence that supports you in your innovative projects from idea to production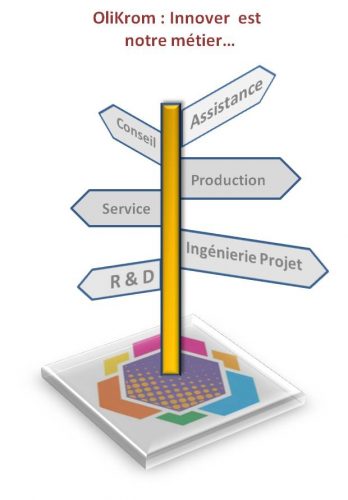 OliKrom works in close collaboration with many companies and accompanies the development of your innovative projects by providing:
A team of experts (doctors, engineers, technicians) adapted to all industrial stages: proof of concept, prototyping, pre-industrialization, production, …
On-site experts capable of upgrading your teams in the field of smart materials,
An experience acquired in mastering smart materials from the pigment scale to the ink and paint products.
The consultancy & technical assistance of OliKrom is also:
An Analysis Service: OliKrom brings consulting & technical assistance in physico-chemical characterization, measurement of thermochromic, photochromic and piezochromic properties, chemical analysis, electron microscopy, accelerated aging chamber,
A R&D Partner throughout the industrial process of smart pigments integration,…
OliKrom contributes through its scientific activities to develop the technologies of tomorrow, especially in the field of functional materials, able to adapt to their environment.
OliKrom makes you save time being an efficient support to bring your new products on the market.
Do you have a project? 
Send us a message, our experts will get back to you within 24 hours!