Today, all sectors (trademarks, goods, intellectual property) and all types of companies (states, countries, customs) are concerned. In recent years, counterfeiting has expanded rapidly, facilitated by the globalization of trade and the development of the Internet and online commerce. In France alone, customs seizures of counterfeit products have increased from 200,000 items intercepted in 1994 to 5.64 million in 2020.
Protect your products, your brand and your consumers.
Are you looking to innovate in the fight against counterfeiting?
The range of counterfeit items is constantly diversifying. The food sector, luxury goods, toys, cosmetics, electronic components, construction materials, cell phones, spare parts, and even medicines or medical equipment are now concerned, directly threatening the safety and health of consumers. In addition to this, of course, there is the historical problem of counterfeiting of unofficial documents: identity cards, passports, banknotes, stamps, gaming cards, casino chips, contract signatures, etc.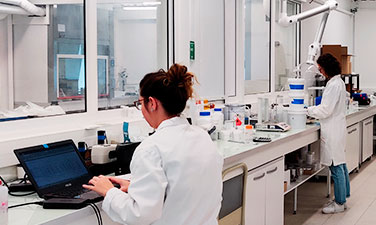 In this context, in all discretion, our expertise in color intelligence is particularly appreciated. The wealth of intelligent materials and the diversity of physical processes involved are still unknown and offer multiple combinations to track down counterfeits.
Depending on the parameters applied to the material, we can obtain a coating that is sensitive to temperature (thermochromic materials), to light (photochromic and photoluminescent), to pressure (piezochromic), to the presence of a solvent or a gas (chemochromic). In addition, our research and development laboratory teams are constantly developing new chemistries to achieve new effects with atypical properties under the action of stimuli (individual or combined). 
You want to assure your customer that the product has not been used or tampered with?
Opening a package without leaving any trace of tampering is often too easy. And yet, the consumer does not want a product that has already been opened, or used by another person.
To answer this type of request, our teams will first discuss with your teams to understand the object to be protected (bottle, envelope…) and its counterfeiting environment. For each type of object, there is an optimal solution to deploy. In this field, the agility and ingenuity of our teams are particularly appreciated. We deliberately remain discreet about the developments in progress and/or the solutions already deployed.
You have a need, a project? Do not hesitate to contact us, in all discretion, we will study your request.
Do you want to allow your consumers to easily verify the authenticity of your products?
Faced with a global and multi-channel market, more and more consumers are questioning the authenticity of brands, the origin of medicines, and luxury goods.
As an example, several cases of counterfeit respiratory protection masks, such as FFP2 surgical or FFP3, have been reported in the EU. In France, 272,000 counterfeit protective masks were seized in 2020 by the customs services.
One of our actions is to develop "consumer" security keys that allow end customers to authenticate their purchases themselves. To do this, we are exploiting the color change property of smart materials. Visual detection is a simple control that can be understood by everyone and can be carried out without additional tools.
In order to optimize this perception with the naked eye, it is essential to take into account the counterfeit product to be protected as well as its direct environment. This imposes a choice of the means of activation (temperature, light,…), and also an adjustment of the threshold of detection, the choice of colors, of formatting,…
You are looking for security keys for an expert public
We are entering the world of protections intended for a professional public equipped with a specific device to control the authenticity of a material.
According to the requests and the sophisticated means to be set up, we intervene at various levels to detect the counterfeits. This leads us to the development of perceptible technologies with complementary tools using, for example, light. In this field, the set of photochromic and luminescent technologies (fluorescence, phosphorescence…) offers multiple combinations to adjust the absorption and emission wavelength. It is a constant race to create new robust security keys.
We are also involved in the research effort around more subtle (non-perceptible) technologies that require laboratory devices to be revealed. Their use is more restricted and is aimed at a public of experts (customs, controllers, etc.). Do not hesitate to consult us, the richness of intelligent materials and the complexity of the phenomena involved are far from having been fully exploited.
OliKrom, your discreet partner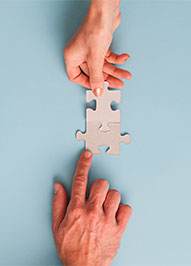 Our teams are engaged in regular research and development to combat increasingly inventive and innovative counterfeiters.
Our culture of secrecy allows us to maximize the protection of our anti-counterfeiting technologies. A training plan is implemented to regularly educate our teams. You will not find any data on our technologies, description of know-how, and we voluntarily remain discreet about our offer.  
Do not hesitate to contact our teams. Expert in color intelligence, we have been accompanying our customers in France, Europe, the United States and Asia for more than 15 years, in complete discretion, in the definition of innovative and sustainable strategies.
---
To know more about our products.
INDUSTRIAL PRODUCTION OF SMART COATINGS: OLIKROM'S WINNING BET
---
Are you planning to integrate a color change technology? Our experts are at your side