OliKrom, winner of the GRTGAZ open innovation competition
19/07/2021
Reading time 5 minutes
In an economic context where corrosion alone represents between 2.5 and 4.5% of the world's GDP, GRTgaz was looking for a partner capable of providing an innovative operational response to combat corrosion on the overhead pipes of its network. 
GRTgaz's problem: facilitate corrosion detection 
Defects on the pipelines, such as corrosion, are currently detected by a careful inspection carried out by GRTgaz agents in the field. Although the majority of the pipelines are buried, the system also has overhead pipelines, coated with an anti-corrosion paint system.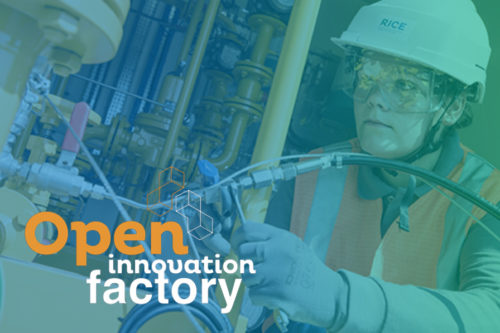 Through its call for projects "Open Innovation Factory", GRTgaz outlined its objectives:
Reduction in the frequency of inspections, excavations and possible maintenance operations
Find and/or develop smart coatings
By creating an intelligent color-changing coating capable of detecting corrosion, OliKrom has won GRTgaz's 2020 call for projects (see photo).
"This type of coating did not yet exist! We used our unique expertise to identify a technical solution that could detect the first signs of corrosion. Our research work was carried out in stages: identifying one or more technologies, adapting them to the sensitivity thresholds desired by GRTgaz, then integrating the technology into a paint. Once the feasibility has been validated, industrialization will follow in order to scale up, as well as tests on pilot sites and quality certification," says Jean-François Létard, director of OliKrom.
Why did you select this company?
Ahmed Fakhry (research engineer, Pipeline department, RICE): "In front of our jury of experts, OliKrom convinced us by its clarity and the relevance of its proposals. They are experts in the field of intelligent pigments and we were looking for a solution capable of changing color when corrosion occurs. This solution, also because of its innovative aspect, seemed to us to be the most suitable, although it is still a concept. OliKrom also has extensive experience in this field."
What will this solution bring to GRTgaz?
Ahmed Fakhry: "It will allow operators to realize, thanks to the changes in color or state of luminescence, the beginning of corrosion on overhead structures. In addition, some structures are very difficult to access, so this solution will allow innovation in the field of inspection. This will decrease the costs associated with the repair and rehabilitation of pipes."