The Great Price: OliKrom wins the "Industrial Nugget" category
08/11/2018
Reading time 8 minutes
Great Future Industry Awards: and the winners are...
The first event dedicated to SMEs and startups committed to the industry of the future gave its verdict on Thursday, during a ceremony held in Nice. Ragni, Olikrom, Coriolis Composites, ETIA, JPB System were distinguished, each in their own category. Inspiring examples of model transformation.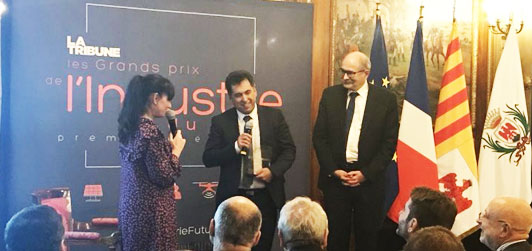 Organized in Nice in partnership with the Nice Côte d'Azur Metropolis, the first Grands Prix de l'industrie du futur aimed to highlight the innovative SMEs and startups that have already seized the industry of the future. These are companies that have either not been afraid to change their model or, naturally, to meet market needs, have added extra bricks to their founding DNA.
A recurring theme in speeches, a desire supported by the government, haloed by the blue rooster of the French Fab, the industry of the future questions as much as it seems to be an essential axis not to be left aside.
The 15 companies pre-selected by La Tribune's regional editorial offices were divided into five categories and judged by a jury of experts in the field.
In the Industry and Environment category, ETIA, from Hauts-de-France, won against McPhy Energy and Sameto Technifil. Nicknamed the Geo-Trouvetou of energy, it has embraced the principle of the circular economy as the SME designs and supplies installations for processing biomass, food products and industrial residues. Headed by Daniel Lepez, it employs 35 people for a turnover of €8.3 million and has 5 subsidiaries, including one in Africa.
The International Industry category saw Cémoi, Atex France and JPB Système compete. The jury was won over by JPB Système, which specializes in self-braking products for the aeronautics industry and is based in the Paris region. Headed by Damien Marc, son of the founder, the SME has been present in the United States since 2010, but also in Poland. It has had a 30-year contract with Rolls Royce since 2012 and with Safran since 2014. It also admits to investing 5 to 10% of its sales in R&D.
The Family Industry award went to Ragni, a designer and manufacturer of intelligent public lighting, based in Provence Alpes Côte d'Azur. The company, which Marcel Ragni runs with his sons and nieces, was very early on interested in the smart city, which is why it is also present in the export market. The SME, which has a turnover of €36 million, won the competition against Magafor and Hexis.
Startups also look at industry and know how to inject it with the right amount of innovation, which is what the Industrial Nugget category wanted to demonstrate, having pre-selected Olikrom, Uwinloc and H-Prec. Olikrom, which comes from Nouvelle-Aquitaine and employs 14 people, won over the competition thanks to its intelligent, highly resistant, programmable pigments, which can change color in a reversible way or not. The idea: to identify at a glance a part of an aircraft that has been overheated or impacted, to imagine walls whose paint changes color depending on the time of day...
Often presented as the industry of the future on its own when it is only one component, Industry 4.0 has brought together in its category Dagoma, Coriolis Composites and Fifty Truck. Coriolis Composites, a supplier of robotic cells and fiber placement software for the aeronautics industry, from Brittany, France, stood out. Although it originally targeted the maritime sector, it was the aeronautics industry that gave it its first chance thanks to Airbus. Today, it is one of its customers like Daher or Safran.