OliKrom receives the Environment Award from La Tribune Bordeaux
14/10/2020
Reading time 4 minutes
Environment Award : The OliKrom Company
Patrice Cauvet, General Manager of CIC Sud-Ouest, presented the Environment Award to Jean-François Létard, President and founder of Olikrom (credits: Agence Appa). The Gironde-based company OliKrom has designed LuminoKrom, the first photoluminescent road paint… This Made in France innovation is the only patented technology that can light up for 10 hours at night.
Olikrom – Jean-François Letard, president & founder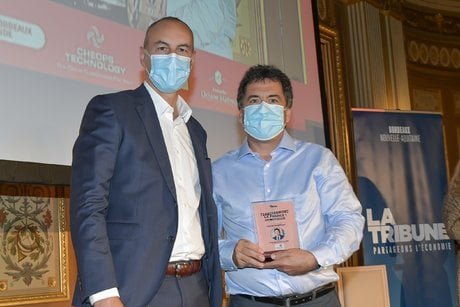 The first bicycle path equipped with LuminoKrom photoluminescent marking was inaugurated in 2018. Since then, this technology has become popular and is being used in all four corners of France. This LuminoKrom paint was developed by the company Olikrom (Pessac, 33), in partnership with the Eiffage Group. 
LuminoKrom® photoluminescent paint contributes to the emergence of tomorrow's infrastructures, which must be safer, more economical and more environmentally responsible. This innovation has been approved by the ADEME's "Road of the Future" program.
LuminoKrom® marking exploits the natural phenomenon of photoluminescence. This physical process allows the paint to recharge indefinitely under daylight or artificial lighting without any fatigue. The LuminoKrom® innovation lies in the fact that it has developed photoluminescent markings that are very resistant outdoors and able to store the surrounding light to emit a diffuse luminosity at night, visible for over 10 hours. This innovation allows to light up roads and bicycle paths but also to respond to the current issues of light pollution.
Read also: Olikrom and Eiffage unveil the first luminescent road in France in Pessac
Discover the six winners of "Transforming France" in Bordeaux
Highlighting committed women and men who are shifting the lines of the economic world, questioning our thinking and shaking up our consumption habits: this is the objective of the six prizes awarded during the event "Transforming France" organized by La Tribune at the Grand Théâtre, in Bordeaux, this Wednesday, October 14, 2020. Here is the list of the 30 nominees and the six winners.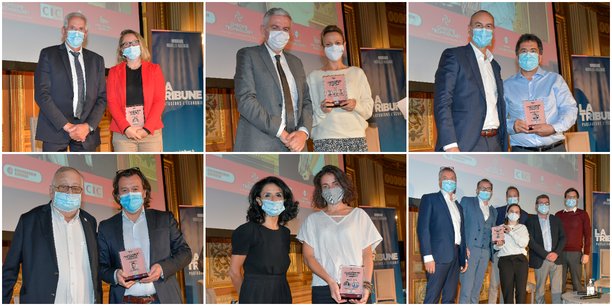 Let's transform France! Nearly 150 people gathered at the Grand Théâtre in Bordeaux on October 14 to attend this morning of debates and prize-giving. (Credits: APPA Agency)