[ArianeGroup] How to detect mechanical damage
14/10/2020
Reading time 8 minutes
ArianeGroup selects OliKrom for its ArianeWorks program
ArianeGroup and CNES are preparing the next generation of European rockets and are launching the ArianeWorks innovation platform. The platform is made up of a fully integrated, autonomous and flexible project team, which favors disruptive approaches and agile methods. The platform operates like a start-up company, providing dynamic management of pre-projects, while benefiting from the support of ArianeGroup and CNES teams. ArianeWorks is in charge of developing THEMIS, a low-cost, reusable rocket stage demonstrator.
ArianeWorks, a program supported by the Nouvelle-Aquitaine Region 
As part of its partnership with ArianeGroup, the Regional Council of New Aquitaine is supporting feasibility studies and proofs of concept involving a dozen innovative regional economic players around the low-cost, reusable rocket stage project called "Themis" and incubated by ArianeWorks. ArianeWorks is an agile initiative launched by CNES and ArianeGroup to accelerate the preparation of future versions of the Ariane launcher. In recent months, Themis has been recognized as a European Space Agency project, with an initial phase starting in the spring and basic tests scheduled for late 2020.
With this in mind, the support of the New Aquitaine Regional Council has enabled activities to be undertaken with several small and medium-sized businesses in New Aquitaine, which were presented on Friday, October 9, 2020, in Saint-Médard-en-Jalles, as part of the 2nd annual strategic committee of the ArianeGroup – New Aquitaine Region partnership. The meeting was attended by Alain Rousset, President of the New Aquitaine Regional Council, and André-Hubert Roussel, Executive Chairman of ArianeGroup.
The following SMEs are particularly concerned:

 OliKrom (Pessac – 33) on an innovative paint that characterizes mechanical damage at a glance).

Shark Robotics (Aytré – 17) for the use of robots for the rocket stage safety operations).

 Flying Whales (Laruscade – 33) for complex transport using the airship LCA60T.

Delfox (Mérignac – 33) for the use of artificial intelligence to automate the processing of launcher data.

 Touch Sensity (Mérignac – 33) for the demonstration of material health monitoring of the surface of materials by a non-intrusive technology.
OliKrom the color intelligence expert tracks mechanical damage
Through this partnership with ArianeGroup, OliKrom will exploit the properties of intelligent color-changing coatings to meet the challenges of future rockets, which must be low cost and reusable. The idea is to develop piezochromic paints, capable of changing color under the effect of a stress, in order to track any mechanical damage.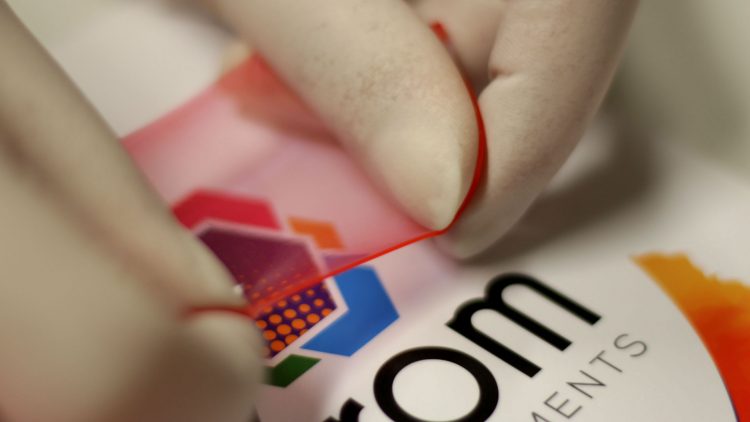 OliKrom has a research and development unit capable of adapting the color change trigger threshold to visualize the mechanical deformation behavior of different materials (deformation or elongation), followed by "material health". OliKrom's formulation unit will then integrate these pigments into the desired coating (paint), taking into account technical, economic and regulatory constraints. 
About ArianeGroup
ArianeGroup develops and supplies innovative, competitive solutions for civil and military space launch systems, with expertise in the most advanced propulsion technologies. It is prime contractor for the Ariane 5 and Ariane 6 families of European launchers, for which it is responsible for design and the entire production chain, through to commercialization by its subsidiary Arianespace, as well as for missiles used by France's ocean deterrent force. A world-renowned specialist in equipment and propulsion for space applications, ArianeGroup and its subsidiaries also bring their expertise to other industrial sectors. A 50/50 joint venture between Airbus and Safran, the group employs nearly 9,000 highly skilled people in France and Germany. Its 2019 revenue is €3.1 billion.