OliKrom prepares for the future by following Euronext's TechShare program
29/09/2017
Reading time 6 minutes
The OliKrom team anticipates the next steps in its growth by following the Euronext TechShare program
The TechShare program is an opportunity for OliKrom to benefit from quality support in the areas of financing and IPO
The curriculum has three components:
Two academic sessions on campus, organized in collaboration with HEC Paris and Vlerick Business School.
Individual coaching sessions with an audit and consulting firm, a law firm and a financial communication agency.
Technical workshops organized one evening per month in Paris.
TechShare welcomes a growing number of promising Tech companies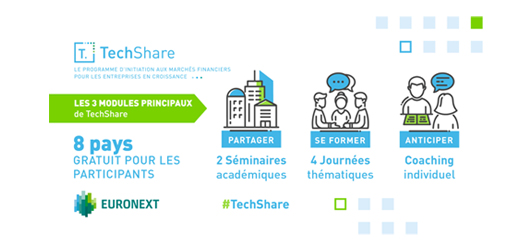 Euronext's pan-European educational program designed for unlisted, high-growth technology companies is back in session with 68 companies selected, a 45% increase in enrollment compared to the previous class.
Amsterdam, Brussels, Lisbon and Paris – September 29, 2017 – Euronext announces the launch of the third edition of TechShare, its capital markets training program for high-potential European technology companies. The Belgian, Dutch, French and Portuguese companies in the new class are being brought together by Euronext and its partners at HEC on September 29 and 30, 2017 and at Vlerick Business School in Belgium in March 2018.After an extensive selection process, 68 companies were selected (up from 47 last year) for the quality of their technological innovations, business models and prospects. TechShare participants for the 2017-2018 year include 16 Belgian companies, 32 French companies, 14 Dutch companies, and 6 Portuguese companies, operating in various sectors such as digital technologies, life sciences, or eco-industries. In total, these new companies have a turnover of 500 million euros and employ over 6,500 people. During a 10-month training period, they will have the opportunity to participate in technical workshops dedicated to financing by the financial markets, individual coaching sessions as well as two seminars at HEC Paris and Vlerick Business School.
48 partners are joining Euronext this year, including 14 new ones, to support TechShare entrepreneurs in their next steps of development. Selected for their expertise in their respective fields, the partners will help entrepreneurs better understand the expectations of the financial markets and advise them on how best to prepare for a possible IPO.
Since the launch of TechShare, two companies in the program have already gone public on Euronext to finance their growth: Osmozis, a multi-service WiFi network operator, and Balyo, a specialist in the robotization of industrial trucks.
Gérard Tremblay, Chairman and CEO of Osmozis, said: "We are very proud to be the first company in the TechShare program to have completed our IPO on Euronext Growth in Paris. This transaction represents a key step in our development, increases our visibility, and funds a new cycle of profitable growth." 
Fabien Bardinet, Chairman and CEO of Balyo added: "Choosing to go public was one of the most important decisions of my professional life. Only a few months after the listing, I can already measure the benefits, not only in terms of cash flow, but also in terms of the positive impact on our day-to-day activities thanks to a better visibility on the markets. The TechShare program was instrumental in our decision making and without it, we probably would have passed up this opportunity."
Stéphane Boujnah, CEO and Chairman of the Management Board of Euronext, said, "We are delighted to start a new year for TechShare together with our partners, who play a central role in the success of this program with entrepreneurs. It is a remarkable networking and advisory tool that allows them to navigate the financing ecosystem with ease. Euronext is committed to providing European technology companies with access to capital markets to support their long-term growth, as evidenced by our recent announcement to expand our offering for these companies beyond our core countries."